Work with us!
Our operations are expanding and we need your help in producing and selling our hand-made tempeh at farmers markets!
The Role
We are looking for an PRODUCTION ASSISTANT whose main responsibilities are:
Assist in kitchen operations to produce our fresh tempeh, which may involve:

Processing soy beans for fermentation
Weighing and packaging tempeh
Labeling and preparing boxes
Dish-washing
Cleaning tables and work surfaces
Sweeping and mopping floors
Removing garbage from containers
Assisting other members in production duties
Represent Tempea at farmers markets and expos if needed
Our ideal candidate will:
Be eager to learn and work pro-actively
Share our passion for food and support for the local food industry
Be able to follow instructions and have attention to detail
Work in a neat and orderly manner
Be friendly and have a positive attitude!
Have great taste in movies and music, and loves board games ---- IDEALLY ;-)
This is a part-time position!
Kitchen shifts are 5-7 hours and it may vary depending on volume of orders. Flexibility on schedule is required. A typical week will involve at least 2-3 kitchen shifts.
Currently, we operate during 3 shifts:
Monday - 3:30pm to 9pm (no later than 10pm)
Wednesday - 11:30am to 5pm (no later than 6pm)
Friday - 11:30am to 5pm (no later than 6pm)
WE EXPECT APPLICANTS TO BE AVAILABLE DURING THESE TIMES.
Each shift includes a 20-minute paid meal break.
We also attend farmers markets and other events during weekends, and we'll call you in if we need extra hands!
Qualifications
Legally entitled to work in Canada
Have a means of transportation to the kitchen (near Northshore Auto Mall), 7-minute walk from the nearest bus stop (#240 bus)
Food Safe Level 1 certification and valid driver's license are assets
Work Environment
Regularly stand, bend, lift and move intermittently during shifts
Accommodate customers and engage with people at the farmers market / events
We welcome all levels of experience and backgrounds, and we will train the right person.
Why work with us?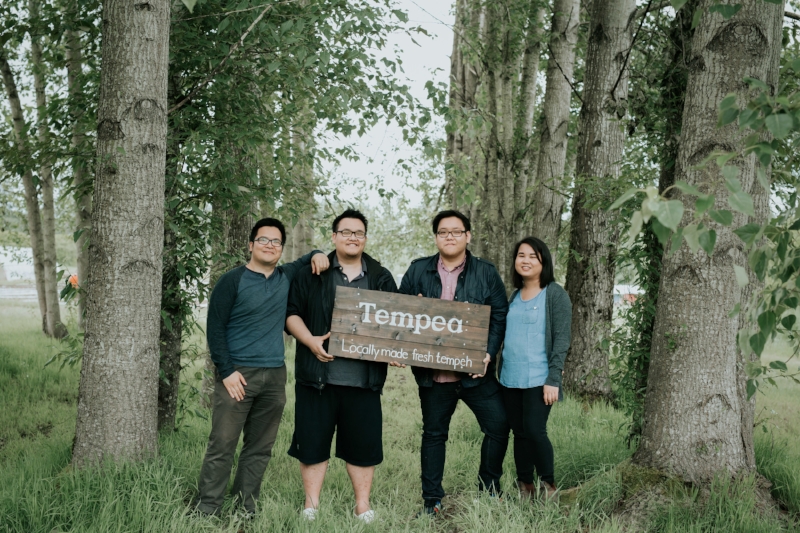 We're a bunch of food nerds :-)
We are a young but fast-growing company who has a special love for food. We offer a fun and supportive working environment, where you can learn lots about food science and gain insight on running a small business. We started selling at farmers markets in the summer of 2016 but we're now expanding all over the city to serve various specialty stores, restaurants, and caterers. We work hard and long hours only to bring the best quality tempeh to Vancouver, which we pride ourselves in. We're passionate about continuously improving and staying on top of our game: we love developing new types of tempeh, derivatives, and recipes. We have lots of exciting things lined up for Tempea, and we'd love to share that success with the perfect candidate.
Is that a yes?
E-mail us at contact@tempea.ca and tell us why you're interested and what type of job you're looking for. A resume will come in handy but we want to know more about YOU! The successful candidate is expected to start IMMEDIATELY, training will be provided.